Page 13 - World Adventures (2020)
P. 13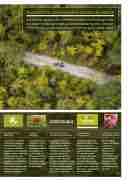 BE A CHILD SAFE ANIMAL THE UNITED NATIONS GIVING BACK TO OUR THOUGHTS ON TRAVELLER WELFARE SUSTAINABLE DEVELOPMENT COMMUNITIES THOUGHTFUL TRAVEL
 In 2013, we removed all instances of orphanage tourism from our trips.
As partners of ReThink Orphanages, we continue to advocate against orphanage tourism. In conjunction
with Save the Children, we developed a Child Welfare Code of Conduct to set standards of behaviour that protect local children from harm and exploitation.
As members of the
Coalition of Ethical Wildlife Tourism we advocate animal friendly tourism and invite you to follow our '10 Steps to Being an Animal- Friendly Traveller', which you can view on our website.
By establishing the 17 Sustainable Development Goals (SDGs) the United Nations set the world a challenge to end poverty, protect the planet and
ensure prosperity for all –
part of a new sustainable development agenda. Tourism directly impacts on a number of SDGs. World Expeditions aims to address some of the SDGs in each adventure.
The World Expeditions Foundation (WEF) raises funds for grass-roots community development projects in impoverished communities around
the world. Funds raised
by the WEF are used
to support Community Development Projects that aim to improve access to education in communities around the world.
The Thoughtful Traveller guidebook is an easy to
read document that empowers travellers with ideas on how they can be thoughtful and sustainable travellers. Head to our website to grab your tips.
1300 720 000 > worldexpeditions.com | 13
| 13
   WANT A PRIVATE DEPARTURE? > Choose your date > speak to our experts
  A united front: conserving environments & cultures
As a traveller, you can make a difference simply by the choices you make. As a leader in sustainable travel, we aim to empower travellers to be part of the solution, so that collectively we make the world a better place.